*slapped wrists* for not publishing the results from the Finals' Weekend.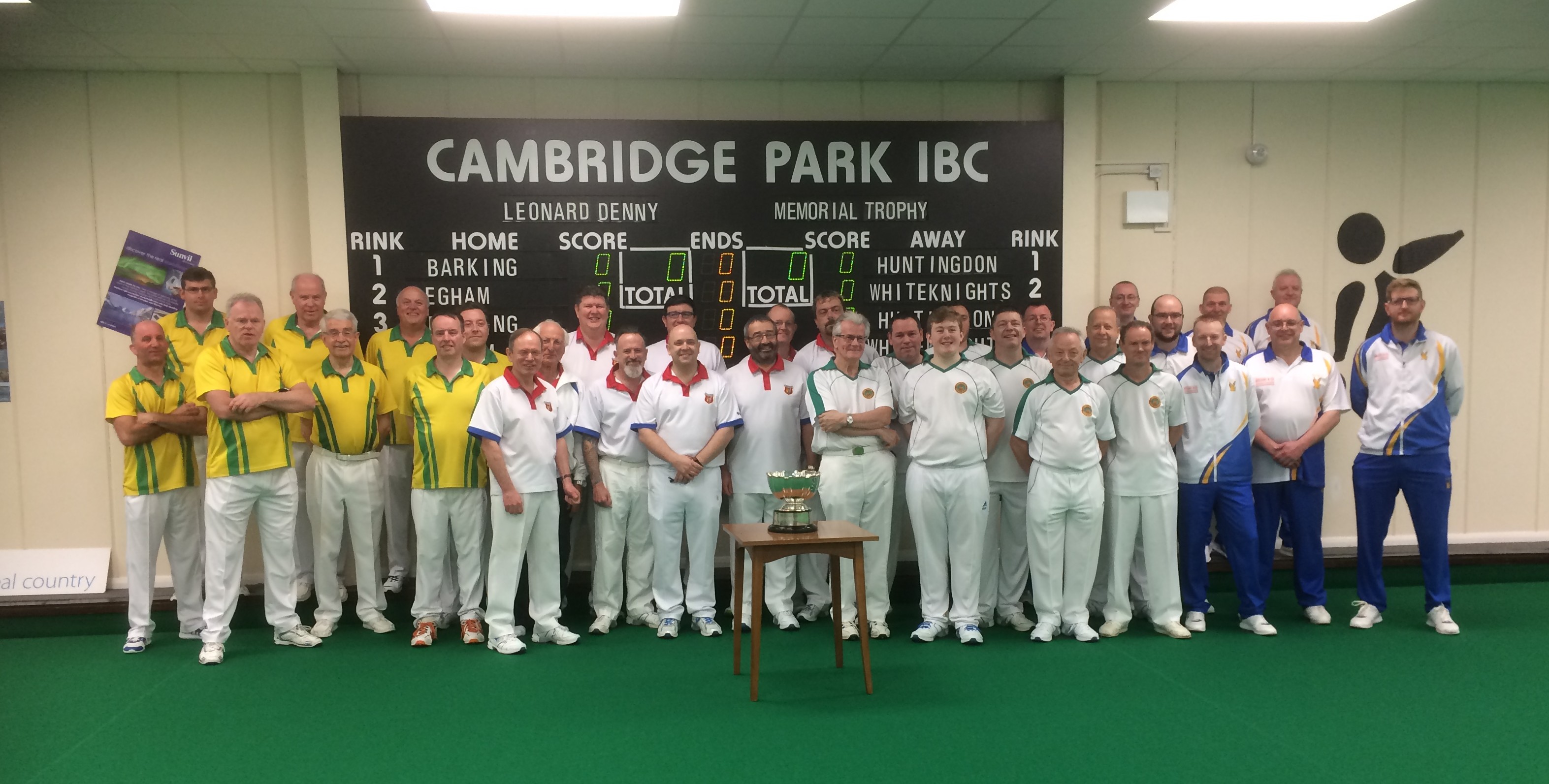 Ian Gilbert, the umpire drew the semi-finalists and Huntingdon played Barking & District and Whiteknights took on Egham.
Interestingly all four teams had one high scoring rink and one much further behind so there was a lot of calculating how the semis would end up!  Huntingdon stayed ahead of Barking most of the time although there was a good pull back in the last few ends.  Egham were ahead of Whiteknights nearly the whole way but a surge by Whiteknights took them into the final by 5 shots.
So, the final was between last year's two finalists!  Robert Newman's rink got off to a great start and the heads were amazing.  It was unusual to see Nicky Brett's team so far behind on the scoreboard even though the game itself was far closer – we're talking shots won by inches, not yards!
Whiteknights were comfortably in the lead until something clicked and the Huntingdon team skipped by Lewis got the mat after about 5 ends and were very reluctant to let Whiteknights have it back again.  Watching the scores see-saw on the individual rinks, it was difficult to know who to watch with both teams forcing their opponents to draw shots even closer.  At 18 ends it was 30-30, which had the supporters and spectators sitting on the edge of their chairs.  On the 21st end (34-32 in favour of Whiteknights), on the Newman/Brett rink, Whiteknights were holding 3 (definite) and with his final bowl, Nicky Brett played a "peach of a shot" to quote Dan Maskell.  It was the perfect draw to give them 1 shot bringing their total to 9.  On the other rink, Whiteknights held 3 and the Huntingdon number 3 played a controlled weight bowl which removed the opposition's bowl and left Hungtindon holding 2.  The following four bowls by the skips narrowly missed or were safely stowed near the ditch in readiness and Huntingdon kept the 2.  35-34 to the boys in blue!
Such an amazing win for Huntingdon but such a cruel defeat for Whiteknights.  After the cheques had been awarded, there was mulling over what could have been but the teams were as gracious in defeat as in winning.  A credit to each other and their clubs.
Thanks to everyone who helped and it was lovely that Barking & District stayed behind to watch as they were unable to return their minibus before 6.00 pm to the depot because of the London Marathon road closures.  You really made the off-green afternoon going with a swing!
More photos will follow once I can download from the memory stick.
First Round by 31st December 2017

Second Round by 31st January 2018

Third Round by 28th February 2018

Quarter Final by 2nd April 2018

Semi Final at Cambridge Park on Sunday 22nd April 2018

  Final at Cambridge Park on Sunday 22nd April 2018

 Wellingborough

 Wellingborough                            25

 Huntingdon 38

 

Huntingdon

HUNTINGDON

 

HUNTINGDON               35

 Bye
 Huntingdon
 

Huntingdon    33

 Bye
 St Neots & District
 

St Neot's & District

 

St Neots & District        31

 Bye
 Stamford
 

Stamford

Bye
 Herts

 Herts              45

 Herts           15

 

Bounds Green

 Bye
 Cheshunt

 Cheshunt       23

 Bye
 Watford           44
 

Watford          34

 

Bounds Green           43

 Century           38
 The Lawns      28
 

Bounds Green 46

 Bounds Green                             43

 

 Falcon
 

Falcon             42

 

Falcon         21

 

Barking & District

BARKING & DISTRICT
 Bye
 Dartford Stone Lodge

 Dartford Stone Lodge               37

 Bye
 Essex County
 

Essex County  30

Barking & District      37

 Bye
 Bye
 

Barking & District              42

 Barking & District

 

 Ashford IBC (Kent)

 Ashford IBC (Kent)                48

 

Ashford IBC (Kent)

 

Cyphers

 Bye
 Angel (Tonbridge)
 

Angel (Tonbridge)       32

 Bye
 Royal Tunbridge Wells

 Royal Tunbridge Wells              15

 

Cyphers

 Bye
 Cyphers
 

Cyphers         70

 Bye

 

 Wealden
 

Wealden

 

Falaise       24

 

Grattons

 

EGHAM

WHITEKNIGHTS    34

Bye
Falaise              48
 

Falaise           w/o

Egerton Park   31
Grattons           36
 

Grattons          40

 

Grattons     40

Horsham & District              16
Adur                  36
 

Worthing Pavilion            32

 Worthing Pavilion            40

 

 Bye

Cambridge Park 26

 

King George Field             21

 

Egham

Cambridge Park
 Hounslow       27

 King George Field                 61

Kind George Field                  38
Egham              36

 Egham             34

 

Egham        40

Camberley       33
Bye

Wey Valley       33

Wey Valley
 Foxhill             42
 

Foxhill            38

 

Foxhill

 

Whiteknights

 WHITEKNIGHTS
Brackley & District             38
West Berks       33

 Oxford City & Council           35

Oxford City & Council             44
Lodden Vale    36
 

Lodden Vale    34

 

Whiteknights

Chawton Park 27
Bye

 Whiteknights  44

Whiteknights

 

 Victory
 

Atherley          40

 

Atherley    45

 

Atherley

Atherley
Dolphin
 

Dolphin           16

Bye
Moonfleet
 

Moonfleet       35

 

Dorchester 21

Bye
Bye
 

Dorchester      36

Dorchester

First named team to be the challenger.  All games to be completed by the dates shown.  

 

 

 

 

Semi-finals and Final to be played at Cambridge Park on Sunday 22rd April 2018.  Winners of each tie

 

 

 

 

to email the result to ldmemorialtrophy@gmail.com or text Dawn Slaughter on 077 66 77 1738