It is with great sadness that we learned that Ray Scott passed away on 14th January.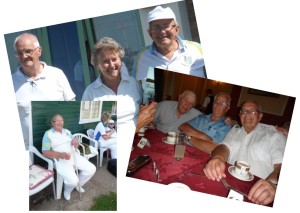 Ray was a great member of Cambridge Park indoors and Isleworth Bowls Club for outdoors although he did tour with CP outdoors – photos above from Isle of Wight Tour in 2013.  He was always extremely cheerful, had a great sense of humour and yet very gentle.  He always had a good word for everybody.
I say gentle but he was a whizz at table tennis and easily dispatched many who thought he would be a soft touch!  They were certainly given a lesson in how to play the game properly!  He also played snooker very well and had been a good all round sportsman in his younger days.
Alas the last few years has seen him battling with Diabetes, Cancer and a knee replacement (last winter) and various other ailments, all of which he has fought bravely and without moaning.
Ray was born in Brentford and stayed in the area all his life, a joiner by trade and one which took him to work at the Royal Household as well as around the world even after retirement.  He was fond of his family holidays and always tried to spend a month in Majorca in the summer.
He was a keen competitive cyclist after completing his National Service, and enjoyed a flutter on the horses.  He was always very sociable so it's no wonder he enjoyed bowls!
One lunchtime (several years ago) he went to a garage in Acton to get some petrol.  After filling up he chatted to the garage owner for about half an hour and then realised he'd better get back to work.  After work he went to drive home but his car had gone!  Not only his car but also his keys, so he had to use his joinery skills to break into his own house.  He phoned the police and they put a search out for the car.  Embarrassingly for Ray, when he had hot-footed it back to work he forgot about the car and had left it (with keys in) at the petrol pump.  The car was found – hooray!  However, the owner wasn't quite so chatty with Ray when he collected it as it had left the garage without the use of the pump all afternoon!
He was a really lovely man and will be missed by his friends and fellow bowlers.  We send our deepest sympathies to his daughter Melanie and son Mark and their families.