It was a really sunny day on Sunday as the crowds gathered for the Bil
l Holmes Trophy.
Unfortunately one fell at the pre-match hurdle on Friday and a replacement couldn't be found, so Brian C and Don played with just 8 woods against their opponents.
Each team played 3 rounds of 6 ends against different opposition punctuated by excellent lunchtime refreshments by Brenda S ably assisted by Beryl B, for which we all thank you.
Five teams won 2 games and lost 1 – Sheila, George, Gym, Ken and Dawn but the winner was chosen on the most number of shots, which went to Gym, Brian & Bernard and that's even with Brian winning another Wrong Bias Certificate!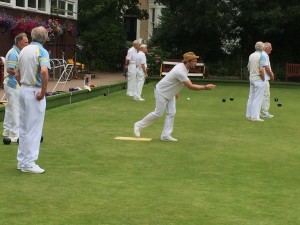 Thanks to Brian for organising the day while his competition partner-in-crime was busy representing Middlesex with Ann H & Cathy T at the Walker Cup Regional Finals.  They beat Hampshire but lost to Kent.
Teams:
Don & skip Brian C
Joan O'N, Corale & skip Dan H
Dennis B, Margaret B & skip Stormin' Norman
Tony O, Roy E & skip Dave S
Brian, Bernard & skip Gym (welcome back!)
Pauline B, Peter B & skip Ken W
Gerry, Terry M & skip Sheila M
Anthony, Art & skip Dawn
Rita, Reg & skip Gorgeous George
Ron C, Rocket Ron & skip A N Other
Good luck to Nadine, Ann H & Cathy T playing the Middlesex Ladies Walker Cup team v Kent.