What a great end to the outdoor season.  The sun was shining, the green running beautifully (as well as still being covered in grass) and a high standard of competitive bowls was played accompanied by banter and laughter (and quite a few wicks!).
It was good to see Jean J, Little Joan, Betty C, Rocket & Carol amongst the spectators enjoying the sunshine and ambience as well as some great draw bowls as in this example by a very proud Beryl!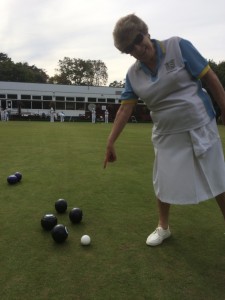 Ann H had to borrow all the ladies' fingers to count up the scores before deciding whether to deliver her last wood.  Her team narrowly went down to George's team 15-16; Sheila's girls had a real wibble mid game as each team member generously gave the jack to Ken's team – that is when Dennis wasn't showing off his triple wick skills(!) and went down 16-26 and Nadine's rink took the bull by the horns, welcomed Rita MacDonald to the club in her debut match and won against Bernard's boys by 26-13.
It was a shame that Terry had to pull out of the match but we wish Ann M a swift and full recovery.
Thanks to Jane for serving behind the bar all afternoon and to Margaret & Beryl for organising the sandwiches and to Gerry for the raffle.
The afternoon concluded with Gerry, Brian & Nadine presenting all the prizes for the annual competitions.
Teams:
Rita W, Corale, Margaret & skip Ann
Pauline, Audrey, Rita McD & skip Nadine
Dawn, Beryl, Joan & skip Sheila
Men:
Brian N, Brian C, Dennis & skip Ken
Gerry, Roy E, Reg & skip Bernard
Peter B, Tony O, Tony B & skip George
Reserves: Dennis B & Brian C
Match Fee £4