As you can see Billy B, Kath & Barry W got into the whole spirit of the Belated St Patrick's Day fun at Cambridge Park.  Billy organised a drawn two-wood pairs comp and Kath whipped up some lovely cakes including a Guinness one.
The assembled players were drawn for pairs, then split into two teams with 5 pairs in each and each pair played the other four in their team for just four ends each.  Martin P & Terry managed to win a place in the final for the A team even though they had been beaten by 1 shot by
organiser Billy & Don N, happily drinking his favourite Irish stout during the afternoon.  Martin & Terry were up against winners of all four matches in the B team – Gerry & Archie.  A close match ensued over 6 ends seeing Martin & Terry winning on the final end.
Terry celebrated his best draw of the afternoon in true Irish fashion –  r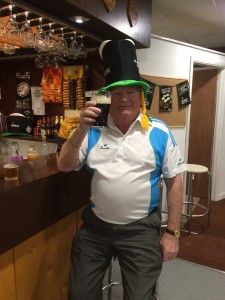 thanks to borrowing a glass of Guinness from Don!
Meanwhile John L & Gym had lost all four of their matches in Team B but were f
orced to get out the bowls shoes again and take on Barry, the Leprechaun, & Isle of Wight Ron in the booby prize play off.  It was 5-5 after 6 ends – as many points as John & Gym had scored all afternoon but they managed to keep their Booby title as they lost by one shot on the extra end.
Kim had been slaving away on Friday and Saturday to make us a Steak & Guinness stew with boiled potatoes and dumplings and it really was excellent.  She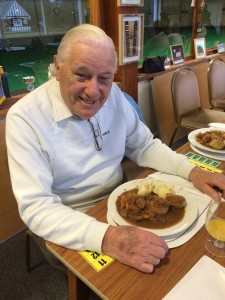 did try and disguise herself
but, alas, the Leprechaun leapt to her side and we could all see it was her hiding behind some very green specs!
After the meal, Billy presented the prizes which were not only winners Martin & Terry, the runners-up Archie & Gerry, the Booby prize to John & Gym and the lesser Booby prize to Barry & Ron but also a special prize for new bowler Brian Noel as he re-joined the Cambridge Park Wrong Bias Club and was duly presented with a Certificate and sticker to that effect for the offending wood.  Shooting Star Chase are also now 50p better off!
All in all, we had a great afternoon, much fun and singing along to the two Irish cd's Billy & Kath brought with them (new additions to their home CD collection) and the evening was finished off with a 45 question Irish quiz.  How on earth Joan O'N, Bernard, Nadine & Ron B scored 34, heaven only knows.  I mean, how many people know the birth and death dates of St Patrick, how many churches he founded and how many people he baptised?  Thank goodness there were easier ones like what sort of glass is made in Waterford and give the name of the famous stone which everyone should kiss!
All in all in was a great afternoon of bowls with added fun.  Well done Billy and Kath!