What a fun afternoon!  Nearly every member of Teddington BC play indoors at Cambridge Park so all were familiar with the green.  The boiler had warmed up a bit and all got underway despite a delayed start.
It was nip and tuck all way and just before the half way tea break, it was 36-36.  However Jean's team must have picked the right cakes as they didn't drop an end after tea and went on to win Top Rink by 12 shots!  It had been a close thing with Norman's rink for top club and, had they not dropped a 6 (how did we manage that?!), we would have been closer.  Both Gym and Dave N's rinks won too but with narrow margins of only 2 shots.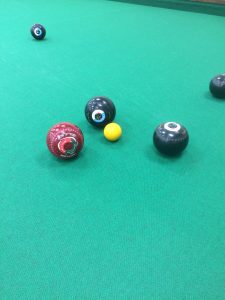 There will be another two chances to play Teddington before the indoor season is out.
Special mention to Ray Purdey for this shot coaxed into position by Gym! —>
Many thanks to Kim, Martin, Kerry, Sam, for the lovely Roast Beef Dinner and to Ellie, Josh & Lesley-Anne who helped wash and clear up afterwards.  The meal was thoroughly enjoyed by everyone.
Teams:
Jeanett, Corale, Ray P & skip Gym
Bob D, Dave Aitchison, Sheila M & skip Jean S
Joan H, Brenda D, Dawn & skip Norman
Frances D, Ann D, Archie D & skip Dave N
Captain:  Norman
Match Fee:  £9.50 including hot roast dinner!
Whites