Ann, Jean, Nadine and Cathy headed off to Heathrow armed with England uniforms and warmish clothes having seen the Belfast weather forecast!)  and joined the other members of the England squad for the British Isles Championship.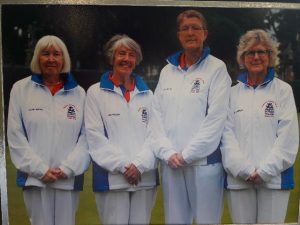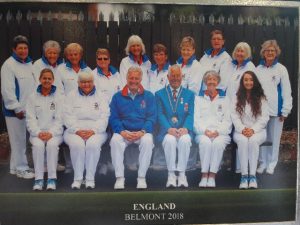 The uniforms look great!
Our girls had a good win in the Preliminary round on Friday morning against Scotland as did the Pairs and the Triples.  Unfortunately England lost their opening Singles and Senior Fours' matches at lunchtime
Later in the afternoon, the Pairs and Triples teams won their matches putting them into the Finals on Saturday 16th June.  Our girls had a good close fight v Jersey but lost by a mere 4 shots.  A great effort and what an achievement for their CV's – Played for England and won a match!  Not many bowlers anywhere in the country can claim that!
So, on Sunday they will be returning home and can hold their heads up high.  Well done Ann, Jean, Nadine & Cathy.  We're very proud of you!