We had an amazing weekend with the competition.
Firstly congratulations to finalists Sian Honnor (Commonwealth Gold medallist – Women's Triples outdoors) and Lloyd Sabatini  (Under 25 England International).
Lloyd nipped the final on the tie-break.  Precision bowls by both competitors, which is not easy when
you've already played for 3 hours in closely fought matches.  The continued concentration is probably the hardest part.  One slip and the opponent says "yippee" and suddenly three shots are dropped.  Not so for these competitors.  Fantastic bowling!
Norman Coad, who travelled up from Bodmin for a 09.00 am first round match on Sunday morning had a great run through the tournament and was pipped for a finals place on the final wood on the final tie break end by Sian Honnor.  It must have felt like a long drive back to Cornwall on Sunday night.
Nick Edwards had played confidently and tightly through all his matches on Sunday until he came up against Lloyd in the semi-final.  Lloyd could have drawn to a sixpence regardless of where the mat or jack were placed.  Such consistency was a wonder to watch and something for all of us bowlers can or should aspire to.
As well as the young internationals such as Emma Cooper and BJ Byles, there were veterans of the green in Danny Dennison (who shouldn't really have been attempting to pick up let alone deliver a bowl so soon after his accident) and Hounslow bowlers Dave Pitt & John Carey. It was good to see former members Maurice Byron and Jane Taylor who travelled up from Wiltshire.  Jane gallantly stood in for a last minute cancellation borrowing shoes, shirt and woods and secured a first round win but not a second round win.
Other entrants included previous OSC winner Sean Gingell and several others top ranked on the 2015/16 circuit.  There were a few club members who entered – Dave Ayton (reached 3rd round but lost to Sian Honnor on last tie break end), Dawn Slaughter (reached second round and also lost on last tie-break end but to Duncan Heard), and Ian Dale, Ann Bamber, Dave Baker and Kerry Payne, the latter three being persuaded at the last minute to fill late drop outs.  Ann B also joined the CP WBC (Cambridge Park Wrong Bias Club) but I think that was down to nerves!
However, we were very proud of our Cambridge Park Members, Laurence Gatfield and Martin Payne who made it through
to the Quarter Finals.  Both excellent bowlers who played extremely well in the first three rounds to reach the final stages.  It's great when club members find top form at the right moment in front of the 'home crowd'.
Between playing their matches, Laurence had been helping with the admin and marking other matches and Martin had been slaving away in the kitchen from 7.00 am on both days – his speciality being made-to-order fluffy omelettes.
Thanks to Kim masterminding the catering – amazing job – and to Kerry & Ellie Payne, Kim's glamorous assistants keeping all the orders in order and to Ann Dale for donning the rubber gloves for most of Sunday – Happy Mother's Day indeed!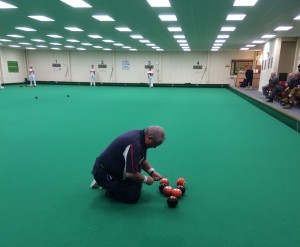 Thanks to all the umpires – Ron Eden, Darren Stanford, Ian Gilbert & Charlotte Manuel for giving up their time.  I'm pleased we managed to get them on their knees a lot to make it worthwhile!
Thanks also to everyone who did a stint behind the bar – Dave Ayton, Ann Macey, Jane Whittle, Reg,  Julia and Dawn – for keeping players and spectators well hydrated.
Thanks also to our sponsors – Sunvil Holidays as well as Lisa Colley St James Wealth Management – who made donations towards the prize money.
Thanks also to Neil Smith, the Open Singles Circuit organiser, without whom these competitions would have been lost from the indoor season calendar.  Check out the website www.opensinglescircuit.com for more competition dates – both indoors and outdoors.  Check on the rankings.
Of course, it's a big thank you to all the competitors who took part – travelling from as far as Bodmin and Suffolk and a host of counties in between.
Last, but definitely not least, thanks to David Ayton for masterminding the whole event.  It was well organised and well run – just what we expect from him!